Central & Eastern Europe
|
home




Prague Restaurants Move Up in Class

July 29, 2001
CHOICE TABLES
Prague Restaurants Move Up in Class By Jacqueline Friedrich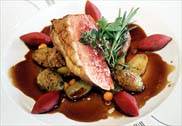 Jan Sagl/Anzenberger, for The New York Times
Duck breast with apples and potatoes, at U Zlatne Studne.
--------------------------------------------------------------------------------

(from the New York Times)
--------------------------------------------------------------------------------
Once upon a time, not long ago, all restaurants in what was then Czechoslovakia were state owned. Menus were based on recipes from three government-approved cookbooks. And waiters had nothing to gain by being gracious.
This, of course, was before the collapse of Communism in 1989. Today the restaurant scene in Prague, capital of the Czech Republic, is nothing if not volatile. There's still plenty of barely edible fare (of which dumplings as heavy as hand grenades are a perfect example) as well as surly service. But the mid-90's brought entrepreneurs like Sanjiv Suri (V Zatisi, Circle Line, Bellevue and Mlynec), who introduced a pan-European eclecticism into the kitchen, updated classic dishes, brought designers into the dining room and gave waiters lessons in hospitality.
Now you can find almost anything and most of it is at the very least decent — and sometimes a lot more. As my good friend and tango buddy, Guilhem, and I recently discovered, there's fusion food everywhere (Pravda, Mecca, Kampa Park among many others), great pizza (Colisseum, Kogo), as well as Continental restaurants on the top floors of tall buildings (La Perle de Prague, U Zlatne Studne), and the best brunches this side of the Atlantic (Angel Cafe, Patio).
Most wine lists are international, spanning South Africa, Australia, the United States and Europe. And there is always a handful of Czech wines; usually the least expensive, they tend to be soft, pleasant, early drinking wines. On a happier note, the Czech Republic has some of the best beers in the world. And after a long day surveying the beautiful streets of Prague, nothing is more welcome than a freshly tapped Pilsner Urquell, Budvar, Radegast or Gambrinus.
Alcron
The Alcron, which opened last September, may be Prague's first world-class restaurant. Carved into an alcove of the Radisson Hotel, it is an Art Deco-inspired jewel box. Its seven tables are comfortably spaced in front of a crescent-shaped mural of couples dancing against a stylized Manhattan skyline.
The emphasis is on fish and shellfish, and the chef, Zdenek Pohlreich, not only buys top ingredients but also knows precisely what to do with them. Every dish is beautifully presented. An amuse bouche (rare in Prague) of smoked duck breast on a mix of wild mushrooms was served in an ornate silver spoon. Subtle, refined and assured, it was a hint of what was to come.
Tartare of yellowfin tuna presented chunks of seasoned sushi-grade fish, topped with a poached quail's egg. There was only a smidgen of the promised caviar but it was very good, and the dish was garnished with the tiniest, mildest leaves of arugula I've ever eaten. A serving of king crab's leg brought layers of zucchini and roasted tomato interspersed with delicate crab salad. But it was the garnish of truffle risotto wrapped in a parmesan-flavored pancake that stole the show.
Soft-shell crabs were in season and Mr. Pohlreich, who'd had them shipped from Maryland, offered three preparations. We chose the version in which the crab was fried tempura style and served with tiny Thai asparagus on a bed of vermicelli. Encircled with a piquant chutney of mango and lemongrass, it was scrumptious. Medallions of monkfish, wrapped in bacon, seasoned with thyme and served with fresh fava beans and a confit of chicory, were excellent.
The competent waitress warned us that there would be a 15-minute wait for the chocolate soufflé. It was worth it. Served with pistachio ice cream on a morello cherry sauce, it tasted like a brownie hot from the oven. The caramelized apple tart, with its sugar-dusted puff pastry, Calvados-flavored crème anglaise and vanilla ice cream, was all freshness and delicacy.
The sole disappointment was the wine list, which had only three Czech whites, among them a merely drinkable 1999 Rulandske Sede Marcincak ($19.50 a bottle, calculating the dollar at 40 korunas).
V Zatisi
Facing a pretty, cobbled square, this restaurant is part of Sanjiv Suri's empire. In its ads it claims to be Prague's favorite restaurant. Maybe, maybe not. But it does seem to top the list of most foreigners, and it does have a lot going for it, starting with the friendly, efficient staff. The décor is distinctly feminine, every inch of wall and ceiling painted with cloud motifs, ferns, roses and wisteria. There are white wrought-iron lawn chairs with cushions, potted ferns and candles everywhere. You feel as if you've wandered onto the set of a commercial for a floral-scented air freshener.
The food, too, is a bit fussy, and struck me as what we used to think of as "gourmet cooking" in the 1970's. But it's fresh and honest. Spinach soup, for example, could not have been more satisfying. It was also rather filling, as it came with a big chunk of Norwegian salmon, perfectly poached in the broth. Homemade spinach tortellini was a big plate of very good pasta, the filling tasting mostly of caramelized onions and only marginally of the billed shiitake mushrooms.
Main courses are more traditionally Czech, as evidenced by flavorful roast rabbit served on thickened gravy and accompanied by garlicky fresh spinach and an onion that had been stuffed with mashed potatoes and parmesan. With the exception of the heavy bread dumplings, Bohemian roast goose was equally pleasing. Tasting of its light honey-lavender sauce, it was tender and juicy and nicely garnished with tart red cabbage as well as good sauerkraut wrapped in a slice of meaty ham.
V Zatisi's cardamom crème brulée is flawless, but the dessert not to miss is the strudel, a paper-thin crepe rolled around warm, seasoned apples and served with frothy walnut ice cream.
From a wine list that is somewhat more ambitious than most, we selected the 1999 Frankovka Barrique ($19.75), a soft, pleasant red.
U Zlatne Studne
High on a hill in the Mala Strana district, this restaurant might also be called Windows on Prague. On the fourth floor above a hotel of the same name, it overlooks the city's dizzying mosaic of domes and spires and terra-cotta rooftops.
The chef, Titus Elias, formerly of the popular U Patrona and Circle Line restaurants, has said that he aims to capture the city's first Michelin star. At this point, I think that distinction would go to Alcron, but U Zlatne Studne would surely win an honorable mention.
On a balmy summer evening, ideal for the outdoor terrace, our meal began with a pleasant amuse bouche of smoked salmon sushi with a spoonful of wild mushrooms marinated in soy sauce, followed by baked Slovak goat cheese, creamy and pungent, on a bed of diced red and yellow pepper. Then came a soothing, flavorful asparagus soup, somewhat bizarrely garnished with sliced strawberries.
Rack of veal in a walnut crust was rather mushy and flavorless, but duck breast was just fine — a thick, generous slab of tender, juicy duck, accompanied by roasted apples and new potatoes.
Warm, caramelized apples interspersed with layers of phyllo pastry were a light, fresh dessert. Amaretto crème brulée, studded with pistachios, was slightly liquid but quite pleasant. Our waiter, by the way, was excellent, but his helper's mistakes, combined with the slowness of the kitchen, made for a very long meal.
One senses that this is very much a period of shaking out for U Zlatne Studne. One area needing work is the unpleasant smell coming from a neighboring building (which makes dining inside a more appealing option than the terrace). Another is the wine list, which charges nearly double the going price for Czech wines. Out of protest, I ordered the Australian 1997 Penfolds Bin 128 shiraz ($61), a user- friendly red.
Angel Cafe
"This is a modern British restaurant," the owner, Matthew Smith, said to us as we lingered over cappuccino and free lemon biscotti. A stone's throw from the British Council, Angel Cafe is spare, comfortable and contemporary. On this brilliantly sunny Sunday, it was packed with Anglophone expatriates who seem to have adopted the place. Mr. Smith and his colleagues could not be friendlier and the food is delicious.
All baked goods are made at the restaurant, starting with the sage scones, banana bread and Irish soda bread put on the table as you arrive. For brunch, you can't do better than the cheese and buttermilk biscuit accompanied by sage-onion sausages, scrambled eggs and prosciutto cooked like bacon — unless, of course, you opt for the four huge slices of lemon-vanilla French toast drizzled with a compote of blackcurrant and lingonberry mixed with crème fraîche.
We were so smitten with the place that we returned for lunch the next day, taking seats in the back garden. We shared a fresh salad of tuna, mixed greens, avocado and carrots, then the day's special, Moroccan chicken — tender white meat, beautifully seasoned with ginger, cumin and hot pepper — on a bed of spiced couscous and Puy lentils, and finished with a slice of citrus cheesecake. More coffee, more biscotti, and Guilhem, who lives in the Third Arrondissement of Paris, sighed, "I wish there were something like this in the Marais. But it would always be crowded."
Clementinum
Owned by Sofia and Andrej Reiser, a Czech-Russian family, Clementinum is a casual and popular spot that would look at home in TriBeCa in Manhattan.
I loved the relaxed feel of the place but, aside from the appetizers, found most of the food merely pleasant, from the potato gnocchi with salmon and broccoli to the tenderloin of pork to the apricot tart and mocha mousse.
On the other hand, I could happily make a meal of those appetizers, chief among them the vegetable pancakes, with lots of sweet fresh peas, on a light oyster mushroom sauce; the fresh spinach dumplings — the size of golf balls — with a cheese sauce and fried onion rings; and the puff-pastry packet enclosing full-flavored sauerkraut and slices of smoky sausage — sort of Gray's Papaya for the gods.
The wine list is more thoughtful than most. We were quite happy with the 1999 sauvignon blanc Vinne Sklepy Lechovice ($5.50), a fresh, clean white.
Modra Reka
Another product of the Eastern European diaspora is this minuscule Yugoslav restaurant in the Vinorhady district that opened nine years ago, after the owners emigrated from Serbia. Simply decorated with homemade curtains, Ikea lamps and naïve seascapes, it is distinctly a mom-and-pop affair serving fresh, real home cooking. We started with warm baked bread and a big scoop of urnebes, a wonderfully pungent spread that would have been perfect with a dry martini — made from Balkan cheese, cream cheese, red pepper, garlic and oil.
Then came a delicate omelet, stuffed with roasted red peppers and what tasted like melted farmer's cheese. Next, homemade sausages, densely packed and nicely seasoned, and cevapcici (short fingers of spiced, minced meat). Slightly greasy, they were very satisfying and came with chopped raw onion. We found they were better complemented by adjvar, a coarse mash of roasted red peppers.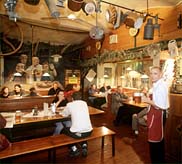 Jan Sagl/Anzenberger, for The New York Times
At Novomestsky Pivovar, a small brewery in the center of the city.
Novomestsky Pivovar
The best beer in Prague? For us the hands-down winner was the lager made by this small brewery in the center of the city. Served in tall mugs, the beer had a two-inch head as firm as beaten egg whites. It was fresh and malty.
We had just flown from Paris, and a pub snack seemed ideal. So we headed here on the advice of a cleaner at our hotel who claimed to be an expert on pubs, and we were not disappointed.
The restaurant-cum-brewery, a warren of dining rooms upstairs and down, serves nonstop. Even at 3:30 a.m. there were customers digging into spicy chicken wings and schnitzel in the glow of copper brew kettles. (Beer is brewed after closing time on Tuesday nights.) We started with fried bread with garlic, served in a basket with cloves of garlic for do-it-yourself rubbing. It was great with the beer. Next we shared the Old Bohemian Platter, a large serving of roast pork, grilled sausage, tangy sauerkraut and heavy potato and bread dumplings. Good honest fare and a fine introduction to Prague. (
Menu
)
Pivovarsky Dum
A close runner-up in the best beer competition is the yeast beer from this brewery. Refreshing and lightly sour, it's but one of numerous homemade variations. (The house's more recherché beers include sour cherry, banana, coffee, samp and champagne.)
As at Novomestsky Pivovar (pivo means beer in Czech), brew kettles in the main dining room set the decorative theme. The menu and the quality of the food are much the same, too. We tried Brewer's goulash and a roast pork preparation that the menu called "Czech cuisine favorite No. 1." The meats and their gravies were one step above the level of cafeteria fare, albeit a good cafeteria. Both came with enormous bread dumplings that were the best we tasted in Prague. The cheerful dining room was full when we arrived at 8:30, and when we left scores of new eaters were streaming in.
JACQUELINE FRIEDRICH wrote "A Wine and Food Guide to the Loire'' (Holt).