It's the Easter season and that means more Ukrainian Holiday traditions.

EASTER BASKET

Easter Basket on display at The Ukrainian Museum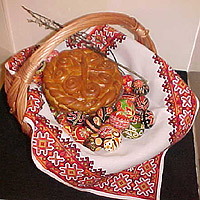 Easter Basket on display at The Ukrainian Museum
The Easter basket is the pride and joy of the family. People judge the mistress of the house according to the way her Easter basket looks, what it contains, and how it is decorated.
The basket should be lined with a newly embroidered serviette or with a white napkin. An embroidered serviette should be used to cover the basket. Very ambitious housewives have two embroidered serviettes - one for lining the basket and one for covering it.
Remember, the basket should contain only a sampling of the foods you are going to eat at Eastertime not the entire contents of the refrigerator.
The Easter basket should contain:
PASKA Place a candle into the center of the paska and light it when the priest begins the blessing ceremony.
BABKA
PYSANKY Easter eggs, new ones every year
KRASHANKY dyed eggs - variety of colors, but there must be a red one
EGGS hard boiled and peeled
SALT a small amount
BUTTER should be nicely shaped and decorated with whole cloves and placed on a small dish or on top of the cheese
CHEESE sweet cheese: mix farmer cheese with confectionery sugar, raisins, cinnamon, cloves and nutmeg. Place on a dish and on top you can place the butter.
HORSERADISH a piece of the root or prepared horseradish with beets
KOVBASA sausage - a small ring
Tie a few willow branches to the handle of the basket with a red ribbon. Spring flowers and periwinkle can also be added. Do not use plastic flowers.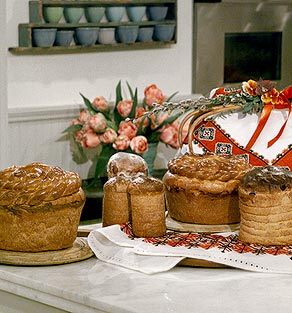 Ukrainian Easter Bread
Makes two 9-inch round loaves

To make one of Martha Stewart's favorite sandwiches, serve leftover bread with slices of liverwurst and a slathering of Homemade Mayonnaise.

2 packets active dry yeast
12 cups plus 1 tablespoon sifted all-purpose flour
2/3 cup plus 1 tablespoon sugar
2 to 3 tablespoons warm water (100° to 110°)
2 cups warm milk (100° to 110°)
6 large eggs, 3 whole, 3 separated, room temperature
8 large egg yolks, room temperature
1/4 teaspoon salt
1 teaspoon pure vanilla extract
Zest of 1 lemon
Zest of 1 orange
3 tablespoons rum or brandy
8 tablespoons (1 stick) unsalted butter, melted, plus more for pans
1/2 cup vegetable oil

1. In a medium bowl, combine yeast, 1 tablespoon flour, sugar, and warm water. Mix until smooth. Set bowl aside until mixture is bubbly, 10 minutes.


2. Add 4 cups flour and milk to yeast mixture. With a wooden spoon, mix until well combined. Cover with plastic wrap, and let rise at room temperature until doubled in size, about 30 minutes.


3. In the bowl of a heavy-duty electric mixer fitted with the whisk attachment, beat 3 whole eggs, 8 egg yolks, and sugar until light and pale yellow, about 5 minutes. Add the mixture from steps 1 and 2. Add salt, vanilla extract, lemon zest, orange zest, rum or brandy, melted butter, and vegetable oil. Whisk on medium speed until combined.


4. Remove whisk attachment from machine, and fit with the dough-hook attachment. With mixer on medium-low speed, gradually add enough of the remaining 8 cups flour until dough comes away from side of bowl. Transfer dough to a clean work surface. Knead dough, adding any remaining flour if necessary, until smooth and elastic, 5 to 10 minutes. Transfer dough to a large bowl, and cover with a cloth or plastic wrap. Place in a warm spot away from drafts, and let it rise until doubled in size, 1 to 2 hours.


5. Place rack in lower two-thirds of oven, and heat to 350°. Butter two 9-inch ovenproof saucepans. Cut a piece of wax paper about 2 inches longer than the circumference of the saucepan. Fold this in half crosswise to make a double thickness. Place inside the saucepan, patting it to adhere to the butter. The collar should extend 3 to 4 inches above the rim of the saucepan. Seal the 2-inch flap with more butter.


6. When dough has doubled in bulk, punch down, and set aside one-third of dough in a medium bowl covered with plastic wrap for decorations. Divide remaining two-thirds dough evenly between saucepans. Place bowl and saucepans of dough in a warm place to rise for about 30 minutes.


7. On a clean work surface, shape reserved dough into desired motifs: suns, crosses, rosettes, birds, braids, scrolls, etc. Keep any dough that is not being used covered with plastic to prevent it from drying out. Brush surface of risen dough in saucepans with 3 lightly beaten egg whites. Attach decorative dough ornaments, using a toothpick if necessary to secure to loaves. Place in a warm place to rise until it reaches almost the top of pans, 20 to 30 minutes.


8. In a small bowl, whisk together remaining 3 egg yolks (reserving whites for another use) with 1 tablespoon water. Brush egg wash on surface of loaves. Bake for 10 minutes, lower the oven temperature to 325°, and bake for an additional 50 minutes. Cool paska in pans for 30 minutes. When bread has cooled but is still warm, gently remove from pans, and transfer to a rack to cool.


Photograph by: Todd Atkinson